Patios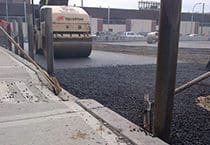 In terms of stonework, natural stonework is very popular when homeowners build a new outdoor space as well as in a renovation of an existing one. Stonework made from natural stone never fades or deteriorates. There are no ridges or dips in the stone finish. One-of-a-kind patterns are created by the stones themselves. Pieces can be fitted together using stonemasonry techniques. These textures, colors, and shapes combine to form an exquisite mosaic.
Patios can be laid with paving stones
The use of natural stone creates an asymmetrical appearance, unlike bricks that have consistent patterns and designs. There are many different shapes and sizes of pavers. It is like putting a puzzle together. Various colors and angles are utilized to provide a truly customized look to the deck area. 
There are many advantages of natural stone over concrete pavers. Among them are:
Resistance to stains
Quality and endurance
Chip and crack resistance
Cleans easily
The perfect match for almost any decor
A rustic look can still be created by combining natural stone pavers with brick masonry, creating a boundary that can accommodate various types of landscaping while retaining its rustic feel.
Custom stonework and pavers can also be added to landscaped areas. Any landscaped area can be enhanced by selecting the right kind of stone for its color and texture, which emphasizes specific highlights and brings out bright colors. A combination of stone and floral displays can create a beautiful display that underscores the beauty and design of a home. By using stone, softer tones can be achieved and the outside can appear more attractive from a distance. You can achieve an asymmetrical design with this touch of diversity.
Custom Stone Work Designed for Function
Using both brick and stone in the construction of a certain area can also add a creative touch. Using masonry blocks to construct a patio with a stone fireplace and grill is an excellent example of this. Stonework adds rich color and texture to the area, breaking up the monotony of the block. In addition, the space is easy to maintain and fully functional. Functionality is important to many homeowners. In addition, a wide variety of applications enables them to take advantage of as much of their property as possible, especially when those properties are attached to or close to their home.
Get in touch with the professionals at Grey-Ruso Construction Corp today by dialing (718) 395-2826. Discover the best natural stone for your patio. In addition to increasing a property's resale value, custom stone work patios beautify a home. Our website can be viewed or a representative can be reached by phone or in person. Whatever you need to make your home a showpiece, we can provide.
Categories:
Uncategorized