Asphalt Paving
The Benefits of Asphalt Paving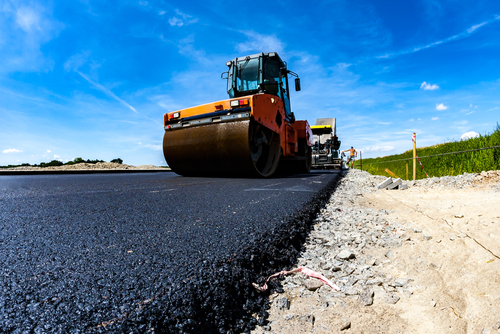 Highways, freeways, main streets, side streets, parking lots, and driveways; if you've come into contact with any of these surfaces, there's no doubt you've encountered asphalt paving. It's estimated that more than 90% of the paved surfaces in the United States are comprised of asphalt, and for good reason, as it's extremely versatile, durable, resilient, and affordable. A semi-solid petroleum medium, asphalt is one of the oldest building materials in the world and has been used since the dawn of civilization for all types of construction.
Driveways, walkways, parking lots, and more; here's a look at some of the top benefits of choosing asphalt for your next paving project.
       

Durability.

Asphalt can easily withstand harsh conditions and all types of wear and tear.

       

Long-lasting.

When properly installed by a reputable asphalt paving contractor, asphalt surfaces can last up to 20 years, and even longer if they're properly maintained.

       

Recyclable.

At a recycling rate of 99%, asphalt is the most recycled material in the United States.

       

Noise reduction.

Thanks to its sound-absorbing qualities, asphalt paving cuts down on noise pollution.

       

Drainage.

Asphalt offers great drainage capabilities and can redirect water to grass, soil, and other appropriate locations.

       

Quick installation.

It's quick and easy to install and doesn't take long to cure.

       

Affordable.

Compared to concrete, asphalt paving is much more economical.

       

Safety.

Water drainage capabilities combined with a dark color that quickly melts snow and ice, asphalt paving makes surfaces safer.
To take advantage of these benefits and more, contact a top-rated Queens, NY asphalt-paving contractor: Grey Ruso Construction. 
Reasons to Hire an Asphalt Paving Pro
You've watched tons of YouTube videos, you've read through plenty of tutorials, and you've even spoken to a few pavement contractors, and now you feel like you're ready to install your asphalt paving on your own. While attempting to do the job yourself might seem like a good way to save money and is certainly commendable before you pull up your sleeves and dive in, here's a look at some of the top reasons why you should forego the DIY approach and hire an asphalt paving pro instead:
       

You'll save money.

An experienced asphalt paving contractor will use quality materials and will do the job right the first time, which will save you a good chunk of change in the long run

       

You'll save time.

DIY asphalt paving is a complicated, time-consuming task, especially if you're just learning. For the fastest results, hiring a pro is definitely the way to go.

       

Better quality.

Professional asphalt paving contractors will have the knowledge, skill, equipment, experience, and materials that are needed to ensure the highest quality results.
·         Less stress. DIY projects – especially something as complex as installing asphalt paving – can be stressful. When you hire an asphalt paving company, you can sit back, relax, and let the pros do the job for you.
Why We're the Right Choice
   

Free Estimates
We offer detailed written price estimates, completely free of charge.
   

Top-Quality Results
We use the most durable materials and proven strategies to deliver the highest quality results.
 

A Reputation of Success
We have successfully served dozens of satisfied commercial and residential property owners throughout Queens, NY and the surrounding areas.
Why Choose Grey Ruso Construction for Your Asphalt Paving Project
Grey Ruso Construction is a premier asphalt paving contractor that has been serving Queens, NY and the surrounding areas for nearly 30 years. Whether it's a newly constructed surface, a repair, or an overlay, when it comes to asphalt paving, you can count on our locally owned and operated, fully licensed and insured company to deliver exceptional results. Our team of professionally trained, highly experienced technicians are experts in their field. Using the highest quality materials, the most state-of-the-art equipment, and tried, tested, and proven strategies, we'll get the job done right the first time.
When you choose Grey Ruso Construction for your asphalt paving project, you'll feel confident knowing that you'll receive high-quality, long-lasting results for an affordable price. To request a free price quote, get in touch with us today!