Masonry
The Premier Queens, NY Masonry Contractor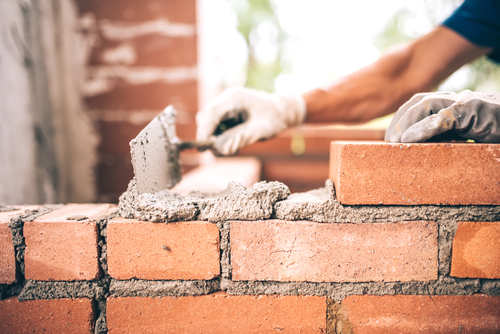 Masonry construction is a timeless art form that has been used for thousands of years. The Pyramids of Giza, the castles and cathedrals of Europe, and the Washington Monument are just some examples of structures that have been constructed of masonry and that are still standing today. From brownstone houses to bridges, tons of masonry structures can be found right here in Queens, Manhattan, Brooklyn, and all throughout the greater New York area, too! But what makes masonry such a popular building material? Why has it withstood the test of time? There are several reasons why masonry is the preferred choice for residential and commercial construction. Here's a look at just a few of the benefits that this time-honored method of construction offers:
       

It's weather-resistant

       

It's fireproof

       

It's resistant to pests, mold, fungus, and rot

       

It's exceptionally durable

       

It's low maintenance

       

It's acoustically-sound

       

It has amazing insulating properties, making it an energy-efficient material

       

It's highly versatile and customizable

       

It's timeless, elegant, and sophisticated

       

It adds value

       

It's cost-effective
With so many benefits, it's easy to see why masonry has been – and will always be – a beloved building material. To learn more about the benefits of masonry and how it can enhance your Queens, NY residential or commercial property, contact Grey Ruso Construction.
A Full-Service Masonry Contractor
From brand-new construction to upgrades and repairs, Grey Ruso, a leading full-service Queens, NY masonry contractor, has all of your needs covered. We specialize in the design, implementation, and construction of custom masonry projects, and we can restore, repair, and rebuild existing masonry structures. Whether you're looking to install a new backyard patio and pool surround, your driveway needs some spot repairs, or you'd like to enhance the exterior of your home or business with brick or stone veneers, no job is too big or too small for our team of master masons.
Brick, concrete, pavers, and natural stone; we carry the largest selection of premium-quality masonry products from leading manufacturers and suppliers. No matter what kind of project you have in mind, we can create it, but the following are just some examples of the types of masonry structures we can create, repair, and restore:
       

Driveways

       

Walkways

       

Patios

       

Retaining walls

       

Indoor and outdoor fireplaces

       

Outdoor kitchens

       

Poolscapes

       

Facades

       

Foundations

       

And so much more!
If you have a masonry project in mind, we'd love to bring it to life! Just give us a call and we'll be happy to sit down with you to discuss your vision.
Why Choose Us?
   

We're Dedicated
We are dedicated to delivering the highest quality results that not only meet the needs of our clients but exceed their expectations.
   

We're Experts
Our talented craftsmen are experts in their field. They truly have an eye for detail and are passionate about their work.  
 

Transparent Pricing
We offer detailed written price estimates that are completely free of charge. We'll review all pricing with you and will never charge any hidden fees.  
Enhance Your Property with Quality Masonry Work from Grey Ruso Construction
If you're looking for a masonry contractor in Queens, NY, the team at Grey Ruso Construction is ready to assist you. Our team of highly skilled craftsmen have nearly 30 years of experience and are truly experts in their field. From new constructions to restorations and repairs, you can count on us to improve the look, enhance the function, and boost the value of your home or business. Patios, pool surrounds, driveways, stoops, outdoor kitchens, fireplaces, and so much more; if it can be made of brick, concrete, pavers, stone, or any other masonry material, you can rely on our crew to create or restore it for you!
What really sets us apart from other masonry contractors is our commitment to excellence. Our designs are completely customized, we use premium-quality materials, and our talented craftsmen masterfully build each and every project we work on. We take great pride in the work that we do. As a locally owned and operated company, we have a vested interest in improving the community and serving the residents of Queens and the surrounding areas. To learn more about how we can enhance your residential or commercial property with top-quality masonry construction, contact us today and schedule a free, on-site consultation. At Grey Ruso Construction, we're looking forward to bringing your vision to life!