Concrete Driveways
Beautiful, Durable Concrete Driveways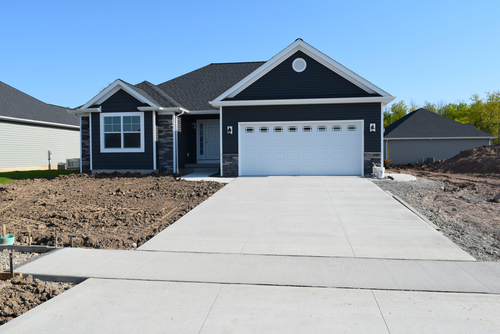 Do you need to install a driveway in your newly constructed house? Is your existing driveway looking a little worse for wear, and you'd like to replace it? If so, then one of the first things you need to consider is the type of material to use for this all-important structure. As one of the first things that you see when you pull up to your house, the driveway has a huge impact on your home's curb appeal, so you want to make sure that it's visually pleasing. It also plays a vital role in your safety, as well as the safety of your cars, so it has to be well-constructed. And, because it's constantly exposed to the pressing weight of vehicles and foot traffic, your driveway needs to be durable. While driveways can be constructed of several different types of materials, there's only one material that can meet such stringent requirements: concrete.
Comprised of a mixture of water, cement, and aggregate (rock, gravel, or sand), concrete has long been used to construct driveways, and for good reason, as it offers several benefits. Here's a look at just some of the advantages that concrete driveways provide:
       

It's highly durable

       

It's super-versatile

       

It's long-lasting

       

It's weather-resistant

       

It has a high load-bearing capacity  

       

It's low-maintenance

       

It's environmentally-friendly

       

It's aesthetically pleasing

       

It can boost the curb appeal – and value – of your property
To learn more about the benefits that a concrete driveway can provide for your Queens, NY home or business, contact the area's leading paving contractors: Grey Ruso Construction.
Our Concrete Driveway Installation Process
As a full-service paving contractor, Grey Ruso Construction specializes in concrete driveway installations. Having our talented craftsmen masterfully design and expertly install a custom concrete driveway on your residential or commercial property is an excellent way to enhance the style, boost the curb appeal, improve functionality, and increase the value of your home or business. Our dedicated designers will work with you to design a one-of-a-kind structure that is completely customized to meet your unique needs and exact preferences. The process is simple, straightforward, and highly effective.
Your concrete driveway project will begin with a free, on-site consultation. One of our experts will come to your property to discuss the idea you're envisioning, learn about your needs, assess the landscape, and gauge the scope of the work. After meeting with you, we'll create a design that will be completely customized to your exact specifications. We'll review the plan with you, and once we have your okay, we'll get to work creating your new driveway. We'll make sure that you're involved throughout the entire process, and we'll take great care to treat your property as if it were our own. After installation, we'll go over everything with a fine-tooth comb to make sure that everything was done properly, and we'll get the final stamp of approval: your satisfaction.
Why Queens Residents Choose Us
   

We're Experienced
With nearly 30 years of experience, we have established ourselves as one of the most trusted designers and installers of concrete driveways in southeastern New York.
   

Unparalleled Results
We pride ourselves on offering the highest quality results, and we always go above and beyond to ensure complete satisfaction.
 

Affordable Prices
We charge fair and affordable prices, and we offer free, detailed, and transparent written price estimates.    
Boost Your Curb Appeal and Property Value with a Concrete Driveway from Grey Ruso Construction
Grey Ruso Construction is a full-service paving and masonry contractor that has been serving the residents of Queens, NY and the surrounding areas for nearly 30 years. Our locally owned and operated, fully licensed and insured company specializes in the design and installation of concrete driveways. Using tested and proven techniques and strategies, combined with the highest quality materials from the most trusted manufacturers and suppliers, our team of expert craftsmen can create a one-of-a-kind, durable concrete driveway that's as beautiful as it is functional.
If you're interested in installing a concrete driveway on your property, contact us today! One of our knowledgeable and friendly associates will be more than happy to answer all of your questions and assist you with all of your needs. When you choose Guy Ruso Construction, you can feel confident knowing that you'll receive durable, beautiful, long-lasting results that you'll be sure to enjoy for years to come.